ZDK für Index Award 2015 nominiert
ZDK

Gesellschaft Demokratische Kultur gGmbH mit "Rechts-gegen-Rechts" für den Index Award 2015 nominiert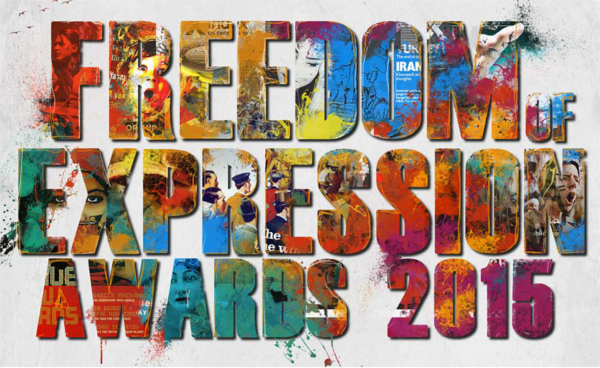 "Mit dem Index Awards 2015 werden einige der weltweit mutigsten Journalisten, Künstler und Aktivisten ausgezeichnet", sagte Jodie Ginsberg, Vorstandsvorsitzender der Index on Censorship. "Diese Menschen und Gruppen arbeiten oft isoliert, mit wenig finanziellen Mitteln oder wenig Unterstützung, aber sie sind alle von der Vision einer Welt, in der sich jeder frei äußern kann angetrieben. – Egal, wer sie sind oder was sie glauben".
Von mehr als 2.000 Nominierungen wurden 17 Kandidaten ausgewählt. In diesem Jahr ist die ZDK Gesellschaft Demokratische Kultur gGmbH in der Kategorie "Campaigning" eine der fünf Nominierten. In der Begründung heißt es, dass Rechts-gegen-Rechts eine alternative Auseinandersetzungsform mit rechtsextremen Märschen ist, die nicht nur auf staatliche Verbote setzt.
"As an alternative to the government's attempts to ban extremist marches came Rechts gegen Rechts, run by Berlin-based NGO ZDK and the brainchild of employee Fabian Wichmann [and Partner, note by ZDK]. ZDK arranged for neo-Nazi protesters marching through the small town of Wunsiedel to be unwittingly sponsored €10 for every metre they walked. On reaching a ticker-tape finish line, extremist marchers were – much to their bemusement –congratulated on the €10,000 they'd just raised for EXIT, a scheme helping neo-Nazis get away from extreme and violent right-wing environments. ZDK has run other innovative, non-violent campaigns with the aim of rehabilitating neo-Nazi offenders."
Der Index Award wird jährlich von der internationalen Organisation Index on Censorship vergeben – eine Organisation, die 1972 mit dem Ziel gegründet wurde, Geschichten von Dissidenten hinter dem Eisernen Vorhang zu erzählen und weltweit für die Meinungsfreiheit einzutreten.
"Die Nominierung und damit die Anerkennung unserer Arbeit und des generellen Ansatzes der ZDK Gesellschaft Demokratische Kultur gGmbH freut uns und bestärkt uns darin, unser Engagement für Freiheit und Würde aller Menschen weiterhin entschlossen zu verfolgen." (Dr. Bernd Wagner, Geschäftsführer der ZDK gGmbH) "Insbesondere die Mitnominierten zeigen, wie wichtig das Engagement Einzelner im Zusammenspiel mit Partnern für Freiheit und Würde ist. Partner, ohne die unsere Arbeit und "Rechts-gegen-Rechts" nie möglich gewesen wären." (Fabian Wichmann, Verantwortlicher "Rechts-gegen-Rechts")
Nominiert in der Kategorie "Campaigning" sind außerdem: Amran Abdundi (Kenya/Somalia); Yaman Akdeniz and Kerem Altiparmak (Turkey); Abdul Mujeeb Khalvatgar (Afghanistan); The Union of the Committee of Soldiers' Mothers of Russia (Russia).
Der Index Award 2015 wird am 18. März in London bekannt gegeben.
Rückfragen an Fabian Wichmann, fabian.wichmann[at]zentrum-demokratische-kultur.de
Telefon: 0177 2404806
English
A journalist under 24-hour protection because of his reports into the Italian mafia, an Ecuadorian cartoonist facing prosecution for mocking a congressmen's pay packet, and lawyers who challenged Turkey – and won – over its social media ban, are among those shortlisted for the Index on Censorship Freedom of Expression Awards this year.
Drawn from more than 2,000 nominations, the shortlist celebrates those at the forefront of tackling censorship and threats to freedom of expression. Many of the 17 shortlisted nominees are regularly targeted by authorities or by criminal and extremist groups for their work: some face regular death threats, others criminal prosecution.
"The Index Freedom of Expression Awards recognise some of the world's most courageous journalists, artists and campaigners," said Jodie Ginsberg, CEO of Index. "These individuals and groups often work in isolation, with little funding or support, but they are all driven by the vision of a world in which everyone can express themselves freely – no matter who they are or what they believe."
"We are very pleased about the nomination and, thus, the recognition of our work
and the general approach of the ZDK Society Democratic Culture and encourages us to continue our determined commitment to freedom and dignity of all people." (Dr. Bernd Wagner, CEO of the ZDK)
"Particularly the other nominees demonstrate how crucial the engagement of individuals in cooperation with partners is for freedom and dignity. Without partners, our work and "Nazis against Nazis" wouldn't have been possible." (Fabian Wichmann, person in charge of "Nazis against Nazis")
Those on the shortlist include Lirio Abbate, an Italian journalist whose investigations into the mafia mean he requires constant protection; Safa Al Ahmad, whose documentary exposed details of an unreported mass uprising in Saudi Arabia; radio station Echo of Moscow, one of Russia's last remaining independent media outlets; and Rafael Marques de Morais, an Angolan reporter repeatedly prosecuted for his work exposing government and industry corruption.
Arts nominees include Ecuador's censored cartoonist Xavier "Bonil" Bonilla – who has for more than 30 years critiqued and lampooned the country's authorities; Moroccan rapper Mouad "El Haqed" Belghouat, whose music challenges poverty and government corruption; Rory "Panti Bliss" O'Neill, a Dublin-based drag artist who speaks out against homophobia; and Malian musicians Songhoy Blues, who fled their country after music was banned. Guitarist Garba Touré was threatened with having his hand cut off.
In the campaigning category, nominees range from lawyers Yaman Akdeniz and Kerem Altiparmak, who played a key part in overturning Turkey's social media ban last year; to innovative German anti-Nazi group ZDK; to Amran Abdundi, working on the treacherous Somali-Kenya border to help women and girls who are frequently victims of violence, rape and murder. They also include Abdul Mujeeb Khalvatgar who is working to develop a free media in Afghanistan, and The Union of the Committee of Soliders' Mothers of Russia – a group dedicated to exposing stories of Russian soldiers, killed in the Ukraine conflict, which the Russian government denies.
The digital activism category, which is decided by public vote, includes investigative news outlet Atlatszo.hu, which is using freedom of information requests to hold the Hungarian government to account; Nico Sell, a US-based entrepreneur and online privacy activist; online map Syria Tracker, which is providing reliable data on human rights abuses in Syria; and Valor por Tamalipas, a crowd-sourced news platform set up to fill a void created by the region's drug cartel-induced media blackout.
The shortlisted nominees:
Journalism
Lirio Abbate (Italy);
Safa Al Ahmad (Saudi Arabia);
Rafael Marques de Morais (Angola);
Echo of Moscow (Russia)
Arts
"Bonil" (Ecuador);
Panti Bliss (Ireland);
Songhoy Blues (Mali);
"El Haqed" (Morocco)
Campaigning
Amran Abdundi (Kenya/Somalia);
Yaman Akdeniz and Kerem Altiparmak (Turkey);
Abdul Mujeeb Khalvatgar (Afghanistan);
Zentrum Demokratische Kultur (Germany);
The Union of the Committee of Soldiers' Mothers of Russia (Russia)
Digital Advocacy
Atlatszo.hu and Tamás Bodoky (Hungary);
Nico Sell (USA);
Syria Tracker (Syria);
Valor por Tamaulipas (Mexico)
Rechts gegen Rechts wurde auch mit dem Sonderpreis DFRV ausgezeichnet.